Finding the best 2.1 speakers under 2000 is not an easy task in India, and if you are going to purchase a new home theater then you may have a general idea about the sound system.
Whether you are an expert or novice, this article gonna help you out in making the best buy. But before things become hot, let us know some basic stuff to identify everything you will be got.
What are 2.1 Speakers System?
2.1 Speakers are a combination of two speakers and one sub-woofer. Unlike, 5.1 channel home-theatre system, they deliver great sound quality but smaller and cheaper than that. All over it is good.
While you are going to purchase a new sound system, you need to look at certain things like
Sound quality
Compatibility with other devices
I/O Type
Type of Speakers
Brand Awareness
Durability
Power Usage
Also Check: Best Wireless Headphones under 2000
Best 2.1 Speakers under 2000 Rs in India
Zebronics BT2150RUF Bluetooth Speakers [Made in India]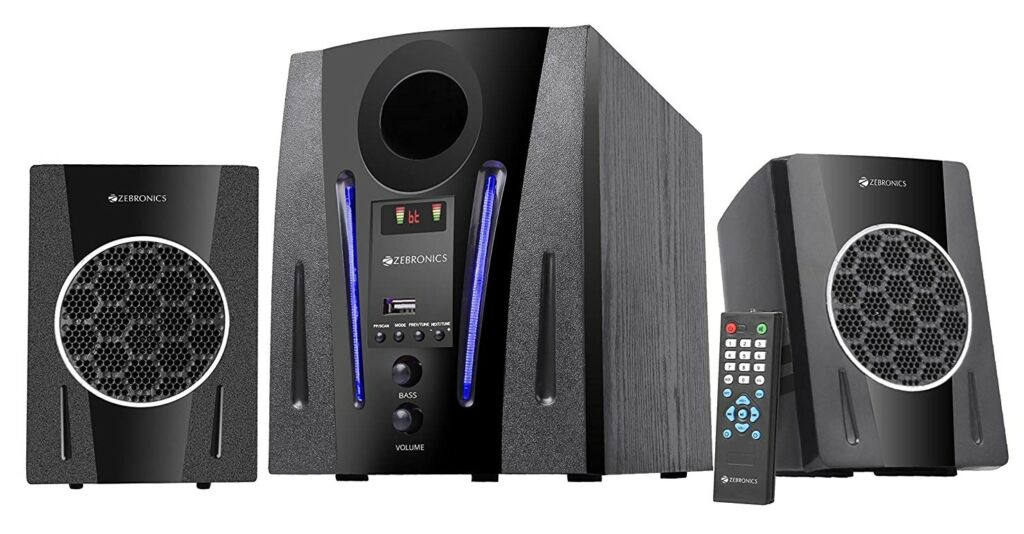 The terrific product with awesome sound quality and various device compatibilities such as SD card, Pendrive, and 3.5 mm jack. Good for home usage and playing best for those who want to listen to music all day.
They can easily connect with your smartphone and on top of that, you can insert a USB flash drive. Moreover, this made in India product allows controlling bass, treble, and volume via remote control.
Moreover, this 2.1 home theater system is made in India that will give you a patriotic feeling, and also Zebronics brand value is much higher when it comes to speakers.
F&D A110 2.1 Multimedia Speakers
F&D A110 is one of the best 2.1 speakers in India with great sound quality and efficiency. The sound system comes with two small speakers and a huge subwoofer to give 35 Watts Power Output.
The best part is that it comes with an automatic voltage regulator that saves electricity without compromising enjoyment. Now, coming to other features, it is having a wooden cabinet that passes good bass with less distortion and relaxes the listener.
When you are going outside on a trip and carry them away, you will find that they are too heavy. But doesn't matter if you are having a muscular body.
Envent Deejay 310 Home Audio Speaker
These towers are best for office purposes or the places where you want to set up a fixed sound system. They cover almost everything from the cool and sleek design to becoming wireless.
Enjoy 2.1 audio home theatre with superb sound quality and good bass. In addition, you are getting in-built FM and powerful thumping power of 20 RMS. However, they are heavy to transport so you have to stick to a place.
Also Read – Best Hair Dryers in India under 1000
Oshaan Atom 2.1 Channel Home Theater
Oshaan is an underrated brand that has made a 2.1 multimedia home theatre speakers system with Bluetooth, USB, and 3.5 mm jack connectivity. The set consists of one woofer and two satellite speakers that generate 22 Watts power output.
You can simply connect those with your laptop and play games like there will be no tomorrow. Either they are giving a fully functional remote, don't rely on it.
Most of all users are complaining that remote is not working. So, enjoy by plug and play or control with Bluetooth. You can move them here and there easily as they are lightweight.
Creative Pebble 2.0 USB Speakers for Laptop/PC
If you are looking for good desktop speakers to listen to audios and watching Youtube videos along with some bass music. Then, this is the thing that you should pick up.
This has been rated by almost 6000 peoples like you and the average rating is 4.3. If you are an audiophile then you will find that bass quality is good, not exceptional but fine.
Treble is strong and lyrics don't get lost even at the higher volumes. Although the sound of electric guitars appears more appealing than drums beat.
If you are looking for some great noise cancelling headphones then you may check this out.